Age In Place Modification Services

Age In Place Modification Services
What is "Age In Place"
Aging in Place involves the planning and orchestration of home modifications that are specially designed to accommodate physical, mental, and psychological changes that may develop as we age. Homeowners enlist the help of experienced contractors who offer Age in Place solutions by adding and modifying features throughout the home.
Why choose 'Age In Place'?
Naturally, most of us do not like to think about the possibility of limited mobility until we have had an accident or are in the midst of a health crisis. However in actuality, the perfect, most cost effective and least stressful time to consider how your house will be used by people of all ages and abilities, is when you are in the process of buying, building, or remodeling a house, sometimes as early as your fifties, sixties and even younger.
Safety
Life experience tells us that accidents and illness can happen at any age. A sudden stroke, broken bone, or an elderly parent coming to stay; all place demands on the design-function of our home. Adding a downstairs bedroom/bath to original floorplans as an alternative to climbing stairs, or replacing a tub with a walk-in shower during a bath renovation (eliminating the challenge of getting legs up and over) all add to the longevity of your homes functionality.
Some of the reasons why many people believe they need to move to the safety of assisted living or a nursing home are; surgery or illness and fear of falling which can lead to an inability to navigate and safely use traditional bathroom fixtures. For many of these individuals, tubs and showers can suddenly become impossible to enter, vanities can be inaccessible to those confined to wheelchairs and walkers …toilets are way too low for comfortable and safe use.
Making a home safe starts at the driveway and carries through to the front door and throughout the home. Adequate space to enter and exit a vehicle, a safe walkway with hand rails and lighting are the beginning. Wide halls and doors, no thresholds between rooms, cabinet door and drawer pulls that won't snag clothing, conveniently placed light switches and receptacles and even changes to kitchen appliances all have a direct impact on the safety of a home.
Cost
By now, most understand the term Aging in Place refers to the ability to remain in one's own home forever – if possible. When we compare the cost of even a pretty major bathroom modification averaging $9,000 – $12,000 and consider the $50,000 to $60,000 per year cost of an assisted living facility and up to $100,000 per year for a nursing home bed; it becomes crystal clear that it certainly pays to retrofit our own home if that is where we wish to spend the rest of our life. Moreover, right now is the time to begin applying small changes that will surely make any home-sweet-home a safe haven for visitors and residents alike.
Costs of renovating are always a consideration and some products and solutions carry a hefty price tag. Having good, budget-conscious advice and the right Contractor can go a long way to making the most out of an Age-in-Place renovation.
Higher Quality of Life
Studies have shown that as we age, we are happier if we move less often and especially is we are able to stay in our own home.
Making accessibility changes in your living environment can delay the need for assisted living or nursing home placement indefinitely. It's understandable why people do not commonly choose to leave behind familiar settings, friends, neighbors and community support. In addition, being forced to leave one's own home undermines important and meaningful feelings of dignity and results in a perceived loss of personal control that affects quality of life and a sense of independence needed to maintain a feeling of security. Have that security and comfort at home by choosing "Age In Place" modifications.
Modern Look
One of the biggest myths about making a home safe for aging is that the adaptive products will stand out and have an "institutional" appearance.  Clumsy grab bars placed around the home, ramps and threshold covers that look out of place and 4" thick toilet seat covers have given the "Age in Place" home a bad image.  The truth is a home can be made safe and accessible for anyone at any age without having an obvious institutional appearance.
Options & Variety
The industry has embraced consumers' needs for variety, especially for home modification needs.  In fact, there are so many choices on the market, that it's fairly simple to plan a renovation or design a new house appointed for needs that may arise over a span of many, many years.  Choose the options that are best for your budget, your taste, and your lifestyle.
Add Value To Your Home
And finally, as a practical matter, even if we ever do choose to move and sell our home at some point, we have increased the value and marketability of a home by choosing universal features and fixtures.  Having an easily accessible home literally opens the doors for all consumers and might even be sought after with a larger older population.
'Age In Place' Modifications
Many spots in the home are "hot spots" for injury-related issues.  Bathrooms, especially, are dangerous and can be difficult to maneuver for those with handicaps.  Simple changes and accessories don't just improve the lives of an aging population but also benefit those who suddenly suffer a sports injury or surgery that makes mobility a temporary challenge.
Bathroom
Because the bathroom is the number one obstacle to safely living at home, the importance of planning and incorporating safety modifications during a routine bathroom update or remodel cannot be overly emphasized.  
Examples of bathroom modifications are:
Installation of thermostatic and pressure-balanced valves.
Converting the standard bathtub to a shower or a walk-in tub featuring a low threshold.
Incorporate fold-out shower benches.
Install motion-sensing faucets.
Replace all standard toilets with comfort height models.
Lighting
Lighting is crucial to the safety of your home.  Consider the following "Age In Place" options:
Install an occupancy or vacancy sensor which allows free roam of your home without constantly fumbling for a switch.
Place a wireless stick anywhere LED light in dark areas in just a few minutes. Not only is there no wiring involved, but these motion sensor lights also turn on as you approach a step or enter a bathroom.
Relocate light switches and outlets within easy reach.
Add more lighting- it is essential for safety.  Consider added lighting to lighted paths, stairs, and countertops.
Home Safety
Make sure at least one entry of the house features a ramp.
Relocating laundry facilities from the basement to the first floor.
Add sturdy support/grab bars at every step or stair in your home
A microwave oven below counter height and a drawer-style dishwasher will make the kitchen inviting and accessible.
Automated home controls to control lighting, thermostats and powered window shades can be monitored and controlled from a smartphone, tablet, or computer, reducing the potential for falls.
---
Get Started
Certainly, there is a standard list of starter changes that immediately make your home and bathroom more "Universal".  However, not everyone has the same expectations, and many don't know where to begin.  Mid-Coast Energy Systems will sit and discuss your personal needs with you, making sure that custom changes will keep you living comfortably in your home for years to come.  Basic modifications you can do now:
Simple installation of appropriate grab bars not only in bathrooms but also in kitchens, walkways, stairways, and bedrooms.
Laundry facilities can be relocated from the basement to the first floor. Comfort height toilets replace the standard too-low toilets.
The conventional bathtub can pose a formidable barrier to the elder at home. Old bathtubs are replaced with sectional shower units incorporating personal showers and fold-down seats.
Installing entry ramps
Relocating light switches and outlets within easy reach
Meet Gina. Our Age-In-Place Specialist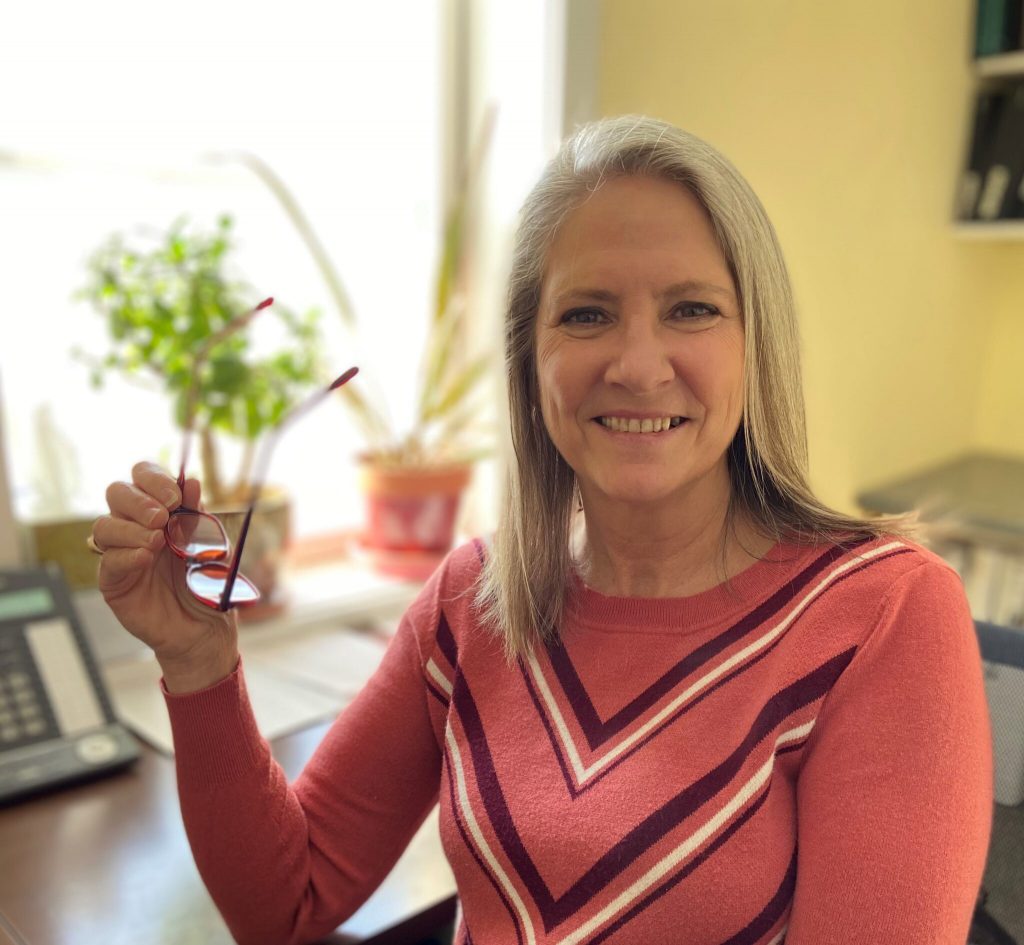 Gina Philippon has given countless presentations on the importance of Aging in Place Home Safety Modifications. She has completed the proper technical and educational training required to become a certified Age in Place Specialist.  This Nationally recognized certification program offered by the National Association of Home Builders was developed to help professionals accommodate the needs of the growing senior population.  As a CAPS Certified Professional, Gina can offer customers her advanced knowledge whether they are planning a new home or need safety modifications made to an existing home.